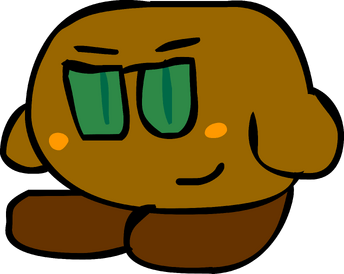 Brown Kirby is a character in Air Ride Adventures. He has appeared as a hidden color swap for kirby in a few games.  In ARA, he's the coolest guy in Edirria, and MOST Kirbies respect him... (Except for Blue and Red).  
Appearance
He has a brown body with darker brown feet. He has turquoise sunglasses to protect his eyes from the sun.  
Personality
Brown Kirby is very laidback, and quite a ladies' man. Kirby and Yellow Kirby obsess over his stunning good looks, even though he looks exactly the same as all the other Kirbys, just brown with glasses.
Relationships
Friends
Rivals
King Dedede (Dedede thinks that Brown Kirby's music sucks)  
Gallery
Trivia
Brown Kirby is very similar to the Brown Kirby in Green Kirby Air Ride.
He makes rap music. (He's also very emperimental. Have you heard his 2013 album, Cliffhanger?
Brown Kirby is GreenKirby121098's favorite character. 
His favorite drink is Sprite.
Community content is available under
CC-BY-SA
unless otherwise noted.