White Kirby is a character in Air Ride Adventures.
About
White Kirby is a police officer. He usually tries to keep order in Edirria, and arrests everybody who is a law-breaker. His main rivals are Blue and Purple Kirby.
Relationships with other characters
White and Blue dislike each other due to Blue being a thief, and White Kirby disliking criminals.
Purple's stupidity goes against all laws of physics.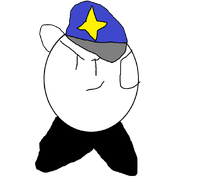 White Kirby is a starting playable character in ARA Smash Bros. White Kirby was revealed on December 6th, 2016. He was the third character to be revealed.
Gallery
Fanart
Trivia
White was the only one of the 8 kirbies to be revealed after the first comic was made public.
White originally had a different personality. Poyo says that if he were to describe it, White was originally going to be similar to Guzma from Pokemon Sun and Moon. He actually almost had a page made, even having artwork, but Poyo had trouble describing White and decided to scrap the idea. 
White rivaling Blue and Purple Kirby is because Purple does various things that are against the law, and Blue is a theif.
On his December art, it says "Cappy Town" (in really tiny text) instead of Edirria.
Poyo Ride claims that due to his hat, White is the hardest character to draw in the series. Poyo may remove the hat someday. 
Community content is available under
CC-BY-SA
unless otherwise noted.