"WITH THIS WATER GUN, WE WILL BRING EDIRRIA TO IT'S KNEES!"
      —One of Zero's dumb plans
Zero is a character in Air Ride Adventures.
About
Zero is one of the main villains. Alongside Dark Matter, he is usually trying to take over the world. The kirbys usually stop his plans. Usually Dark Matter comes up with the good plans... Zero thinks that feathers are threatening to a giant city.
Appearances
Zero is literally a giant flying white circle with an eye. Can you get any simpler?
Relationships with other characters
Ziro and Zero have been rivals ever since preschool. They fought over who got to play with the firetruck and have been rivals ever since.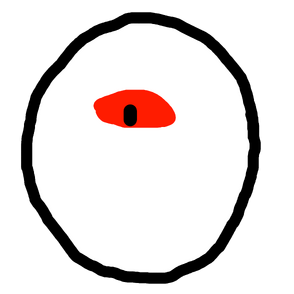 Zero was confirmed on December 18, 2016. Zero is an unlockable character. To unlock Zero, you have to defeat a level 10
Dark Matter
CPU twice.
Gallery
Trivia
Zero was the first ARA Smash character to use the Melee challenger approaching warning for their teaser instead of the Brawl one.

He was also the first unlockable character to be revealed.
Community content is available under
CC-BY-SA
unless otherwise noted.